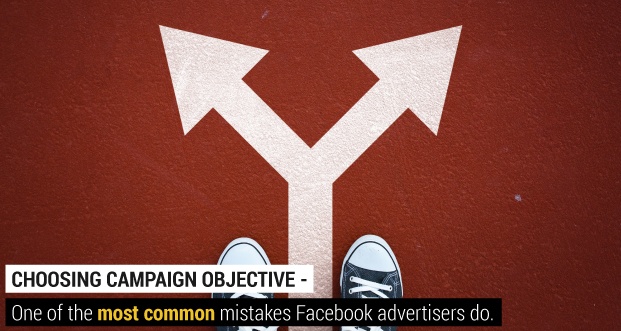 Facebook campaign objective is nothing more than what you are willing to achieve when you advertise on Facebook. It could be, for example, to generate more leads or drive traffic to your website.
A Facebook campaign objective is the starting point of the Facebook campaign structure. Each Facebook campaign should have a single objective and here is where a lot of Facebook advertisers get confused.
Before analysing which campaign objective is suitable for each goal, let's take a look on the Facebook Campaign Structure Diagram and find out where the Campaign Objective fits in it.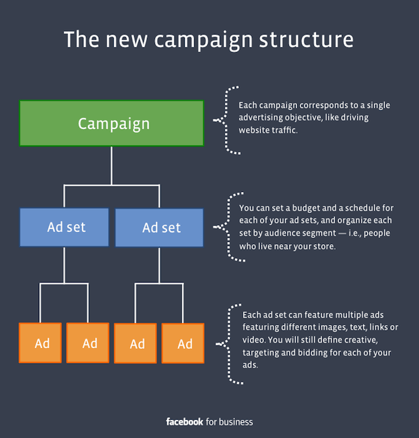 Moving to the next level of the Facebook Campaign Structure diagram we have the Ad sets. Here is where you can set the budget , define the targeting, select your conversion pixels or set the start and end date of your campaign. A Facebook campaign can have multiple Ad sets with each one to represent a different target group, ad copy or placement.
Finally, we have the Ad level of our Facebook Campaign Structure diagram which is where we can create multiple ads with different images, text, call to actions etc.
As we have seen so far, we can have multiple Ad Sets, multiple ads but a single campaign objective.
Download our Free eBook and find out how to create Marketing that people LOVE!
Why choosing the right Facebook Campaign Objective is important
One of the most common mistakes Facebook advertisers do when creating a Facebook campaign is choosing the wrong campaign objective. No matter how compelling your ad text is or how detailed your targeting is, if you choose the wrong objective then your campaign won't perform as well as you expect.
It's not a coincidence that the campaign objective mistake was amongst the five most common Facebook ad mistakes marketers do stress by Perpetual Traffic's experts on their recent podcast.
How to choose the right objective ?
Choosing the right objective might be tricky. Let's say for example that you have a dental practice and you've just launched a white paper for one of your treatments. You have created a landing page and started sending traffic to it so you get as much white paper downloads as possible. The logic says that the more website visitors you get the more downloads you will have. And as it is generally accepted the best way to send traffic to your website is Website Clicks, so you chose Website Clicks as Campaign Objective. This is not always the right objective to generate more leads!
If your goal is to get as many white paper downloads as possible then your Facebook campaign objective should be Website Conversions. The reason is, if you choose Website Clicks then Facebook will optimise your campaign for link clicks and will target people in your target audience who are more likely to click on your link rather than people more likely to convert!
Hence, the answer to this questions is, choose your objective based on the final results you are expecting. Try to understand Facebook algorithm, don't try to fool it because it's not going to work.
Below we have listed the most common Facebook campaign objectives and when you should use them to create a successful campaign:
Website Clicks
When your objective is to drive traffic to your website or to a landing page then Website Clicks is the right objective for you. Website Clicks is a campaign objective we usually use to promote new blog posts or create awareness about a company's services.
Make sure that your ads are referring to the right audience because you may get low Cost Per Link Click but you may get high bounce rate as well. Of course referring to wrong audience is not enough to define if it's worth keepig a Facebook Website Clicks campaign runnnig.
Website Conversions
When you expect people to take action on your website e.g. check out, claim an offer, fill in a web form, then your objective should be website conversions. You may get a higher Cost Per Click but as mentioned in the example above, Facebook will deliver your ads to people who are more likely to convert.
Lead Generation
If you don't have the best converting landing page or the assets to create one then Lead Generation ads is the best objective for you. Lead Generation ads allow you to create a lead form inside Facebook which means that users won't have to leave Facebook to complete the form.
Here at Yello Veedub, we have been testing Lead Generation ads since day 1 and so far we are getting more conversions and more leads from them! What's more, Lead Generation ads are being updated regularly and Facebook team keeps adding more amazing features into them.
Video Views

You may be thinking that the Video Views objective is selected when you want to promote a video. Yes, that's true. However, you can promote a video by using any of the above campaign objectives! After a lot of testing, we came to the conclusion that Video Views objective is a great way to create custom audiences.
So if you have a pre-launch promo video then Video Views is probably the best way to create your first custom audience and use it when your product or service launch!
Conclusion
As we have seen, choosing the right objective on a Facebook Campaign isn't as easy as it sounds. On this article we have covered four of the main campaign objectives, there are ten more, just to highlight their importance.
What do you think? Would you like us to analyse more Campaign Objectives? Let us know in the comments below!