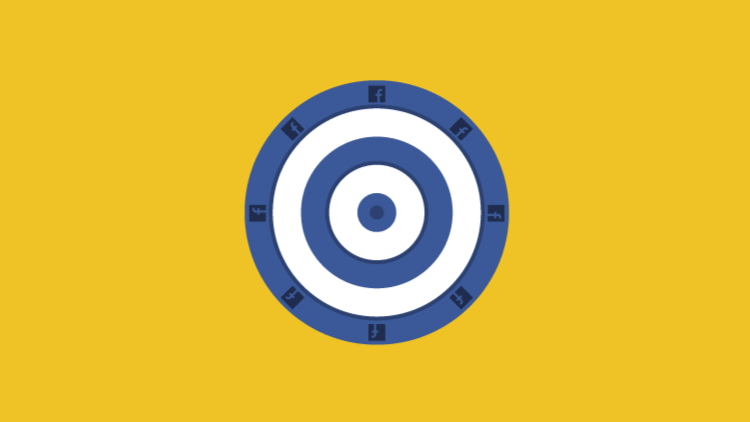 Targeting is where every paid media campaign should begin, it's a success factor and an indicator that as a Marketer you have done your homework. On a previous article we referred to poor Paid Media targeting as one of the main reasons why a paid campaign results to a low conversion rate and high bounce rate. On this article, we are going one step further and analyze the importance of targeting on one of the biggest, if not the biggest, Paid Media platforms, Facebook.

When it comes to Facebook Targeting, there are 3 types of audiences you can use with each type to be constituted by several sub sections. The 3 main types of audiences you can create on Facebook are:
Saved Audience
Custom Audience
Lookalike Audience
1. Saved audience

This is probably where you need to start if you're new to Facebook Advertising or when you want to identify new opportunities for your business. It may vary from very simple to very complex and this is because you can select:
The location and the radius that your advert will be displayed
The gender of your audience
The age range of your audience
The language that is common with the location you chose
Interests that are related to your buyer persona
Specific behaviours connected to your buyer persona
Demographics i.e. education level, job title, field of study, relationship status etc.
Connection type i.e. People who liked your page
What's more you can narrow down your audience by setting some rules like "Target people who are interested in Dentistry only if they have high income".

Building a Saved Audience is not easy as it requires a lot of research and understanding of the lifecycle stage of your buyer persona. As an expert in your field, you will be very familiar with the profile of your ideal customer, however let us share some of our best techniques with you that will help you be as detailed as possible and achieve better results.

Here are some questions to ask yourself before start creating a Saved Audience :


Who are are the authority figures and big brands of your industry?
What books and magazines are they reading?
What hobbies are they interested in and what events do they usually attend?
Where / on which websites do they spend their time online?
Where do they live?
What is their average income?
What is unique about your ideal customer?
There are several tools that can help you answer these questions like Facebook Audience Insights, YouGov and Google Analytics just to name a few. However, the best technique is by interviewing your customers or by collecting data from them by using surveys!


2. Custom Audience

Facebook Custom Audience is probably one of the most powerful features of Facebook Advertising and the audience that will get you the best results most of the time. There are four types of Custom Audiences: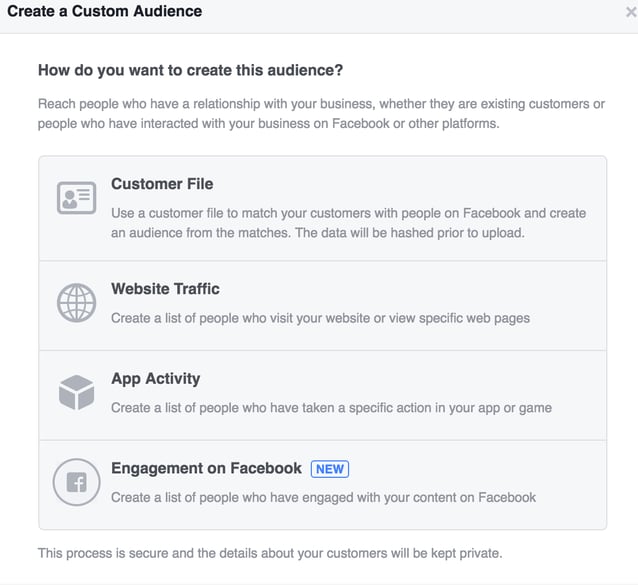 Customer File
If you have an email list of people who subscribed on your website or purchase from you in the past, then you can upload that list on Facebook and start advertising directly to them. The beauty of this method is that you know exactly the lifecycle journey of this audience and you can 'serve' them relevant content or offers and expect very good results and high ROI. Please note that you will not get a 100% return rate from your email list, as people may using different email to login on their Facebook account or may not be on Facebook.
Even though Customer Lists constitute a very powerful way of targeting, you need to be very careful with them. If you reveal sensitive information within your ad copy, then you might cause frustration, lack of trust to your brand and get a lot of negative feedback on your ads.
In order to make sure that you are not causing any negative behaviours, make sure you are checking your ad's relevance score. As mentioned in a previous article, the relevance score of an ad should not be less than six.
Website Traffic
Website Traffic can be used very smartly as there are few options on what audience you want to get returned from your tracking pixel. Here are all the available options:
Anyone who visits your website

People who visit specific web pages

People visiting specific web pages but not others

People who haven't visited in a certain amount of time

People who spent a specific percentage of time on your website
Please note that not all the advertising accounts have all the Custom Audience options as some of them, i.e Average time spent on your website, are still on beta version or not available in some areas yet.
Engagement on Facebook
If you have a Facebook page with high engagement then this targeting option might be very powerful for you! With Engagement on Facebook you can create audiences based on:
The percentage of a video, that you shared on you page or advertised, watched by your fans.

The engagement level on a lead generation form you have created, i.e. people who clicked on your ad's CTA to open your Lead Generation form.
The engagement level on a Canvas you have created, i.e. people who opened your Canvas.
The engagement level on your Facebook fan page i.e people who sent a direct message to your page.
Having all the points mentioned above in mind, you can easily understand that it's very important sharing content and engaging with your Facebook fans. A lot of Facebook Marketers are already creating successful strategies based on their fan engagement level with thriving results. We have included an example of a similar strategy for you by the end of this article!
App Activity
App Activity allows Facebook advertisers to create audiences based on a specific action on their apps or games. This targeting approach is not commonly used by a lot of advertisers but it can be very powerful if it's combined with the Facebook App Analytics which records user actions and gather demographics.
Having an audience based on specific user interactions, it's understandable that it can lead to a successful outcome as well as positive feedback.
3. Lookalike Audience
Last but not least, we have the Lookalike Audience which constitutes a very powerful way to create an audience similar to your existing audience. The important thing here, is to understand that even though this audience will be similar to your target audience, it doesn't mean that they are on the same lifecycle stage as your custom audience. So it's better if you use Lookalike Audiences in lead nurturing campaigns.
While creating a Lookalike Audience, the Facebook algorithm is working to match your audience's Facebook Accounts with people with similar interests. In order to achieve that, Facebook needs at least 100 people as a sample for a selected location.
It is important to mention that you can only create this type of audience if you have already created a Custom Audience before. For example, if you upload an email list that is greater than 100 in a selected location, then you can use it to create a Lookalike Audience. Another example would be, to create a Lookalike Audience of people who visited your website the last 30 days.
Example of Facebook Targeting In Action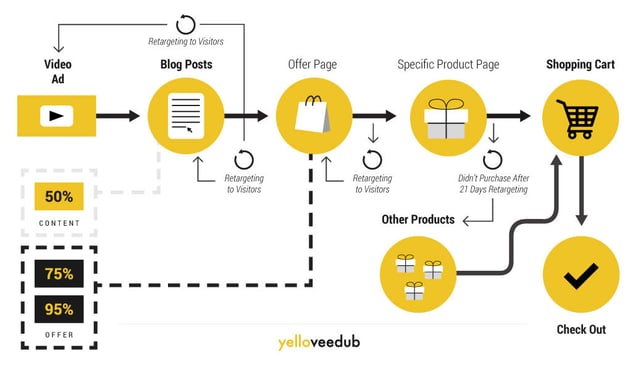 Let's take a look on a Facebook targeting strategy that combines Saved or Lookalike Audience and two types of Custom Audiences, Engagement on Facebook and Website Visitors. This will help you understand the targeting concept better and give you a better idea on how you can use Facebook targeting to create your own strategy.

Step 1 - Video Promotion to Cold Audience
In the diagram you can see this Facebook campaign begins with a Video Ad. The audience targteing option we have used in this case has been Saved Audience or Lookalike Audience. As this will be a cold audience (people who have never visited our website or are aware of the brand or product) we begin the campaign with a video as the goal is to engage with our target audience and warm them up with a light action, ie video view.
Step 2 - Relevant Facebook adverts to relevant custom audience
After we run our video ad for a couple of days then we can create 3 "Engagement on Facebook" Custom Audiences:
people who watched less than 50% of the video content
people who watched more than 75% of the video content
people who watched more than 95%

of the video content
For the audience of people who watched less than 50% of the video, this is a signal that the audeince still needs to be warmed a little more so our next set of Facebook adverts will be more content, this time in the form of related blog content .
For the audiences of people who watched 75% and 95% of the video, an indication of high engagement, this audience has been warmed enough for us to now target them with Facebook ads promoting our product offer page. From the offer page people can move to another three pages which are a Specific Product page, the Shopping Cart page and the Checkout Page.
Moving forward, the people who haven't purchased but have visited a product page will be retargeted with the specific product and be excluded from the offer page retargeting audience. If this audience doesn't take any action within a specific time period, then it's wise to retarget them with an alternative similar offer.
Finally, the people who purchased will be also retargeted with alternative similar offers as well, as they are the most educated and hot target audience in your Assets Library.
What is extremely important when you are running retargeting campaigns, is to keep an eye on the frequency of your ad set because the more times people will see your ads, the most frustrated they'll get.
Synopsis
As we have seen, there is a lot of effort to put in when it comes to Facebook Targeting and there are a lot of options that may work differently for different campaigns and Facebook Ad Accounts. There is no proven best targeting option, unless you start testing what works best for you and feel assured that this is easy for you identify and start creating a targeting strategy!
If you are already advertising on Facebook, we would love to hear which audience is working best for you! Also, we may have the answer to one of your questions! So do not hesitate to leave your comments below!